Conrex —
a vision of permanence
Creating a conversation
for a company
at a crossroads
Project breakdown
4 in-depth interviews with the CEO and company founders, recorded, transcribed, and analyzed
2 review sessions with the CEO
6 weeks from first interview to final publication
project results
10 town halls with regional employees
a shared language and vision that unified and energized employees at every level
2019 International Association of Business Communicators Award of Merit
The background
When Jonathan Grzyb accepted the role of CEO at Conrex, a leading investment and property management firm of Single Family Rental Homes, he knew he was in for a challenge.
While the South Carolina-based company had been wildly successful at investing in secondary housing markets following the 2008 crisis, the core values and practices the company would need to build a long-term, sustainable business would have to change. His company was at a cultural crossroads and he had a major organizational reality and crisis to face.


The problem
As Jon planned a series of announcements and Town Halls to reveal and explain hard decisions around the company strategy, structure, and talent, he wanted to inspire and engage local offices around a shared Vision for a more powerful future.
Jon came to us after struggling to articulate his Vision in a way that was clear, concise, and compelling. He wanted to provide pragmatic insight and guidance while also inspiring enthusiasm, confidence, and commitment to more than 200 contractors and employees. And while he knew the Vision had to come from him, he rightly concluded that his value wasn't in the writing, wordsmithing, or designing of that vision—it was in his leadership and in his ideas.
How we helped
Most of our work was centered around Jon. We developed deep dialog through probing questions that allowed us to unearth his personal values and beliefs, and his professional ambition for Conrex, and built a Vision narrative based on our notes and transcripts.
Powerful writing is about so much more than words. It's the art and science of "sticky" communication that strikes a balance between intellectual understanding and emotional resonance. By creating a clear hierarchy of ideas built around the organization of the future, we created a 5-page Vision of Permanence that honored the organization's past, asserted a powerful Purpose, established shared metrics, and presented a cohesive set of new capabilities that would take the company from a short-term "transactional" mindset to a long-term, value-generating, asset-building enterprise.
creative highlights
This piece won a 2019 Gold Quill Award of Merit from the International Association of Business Communicators.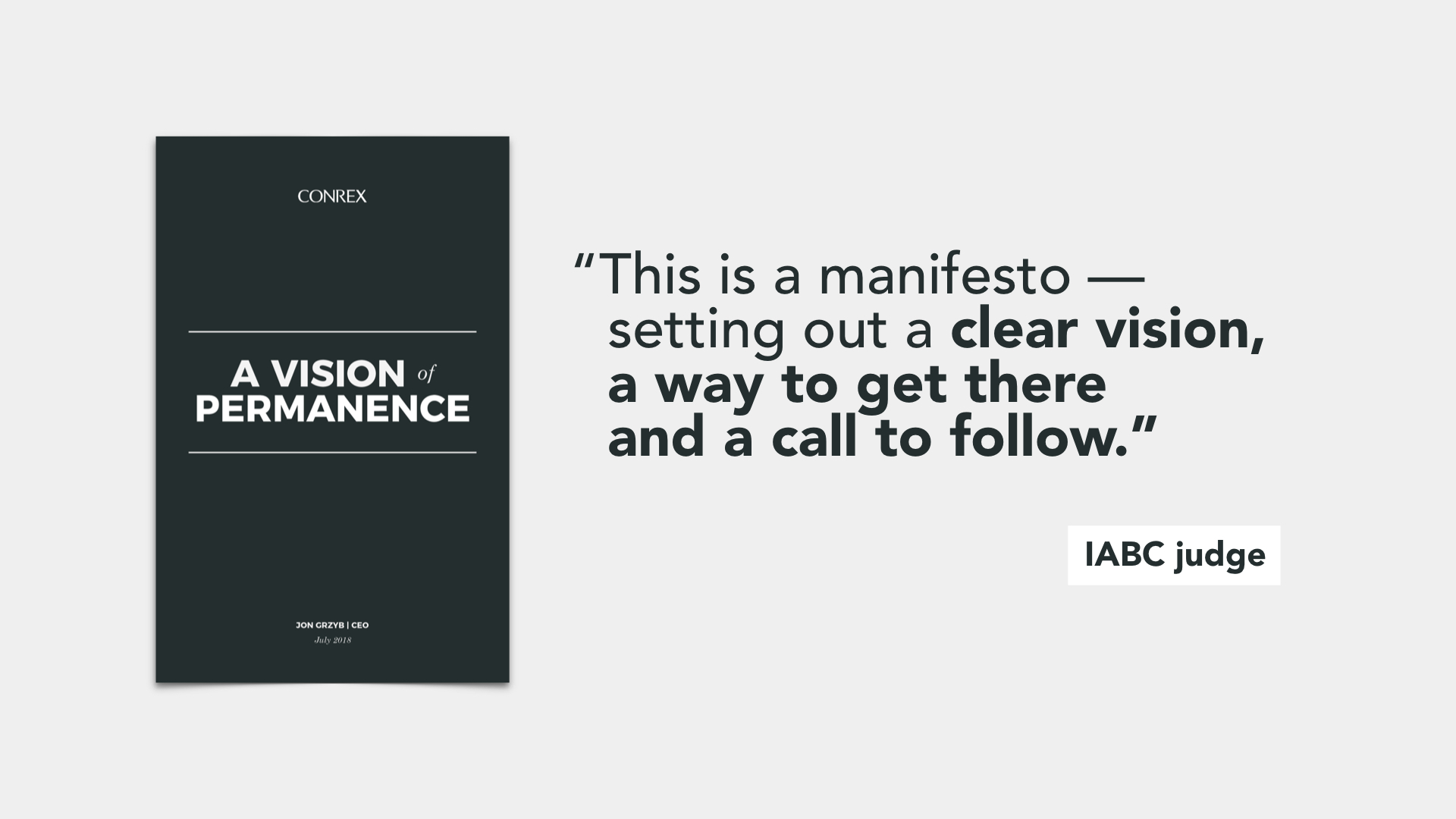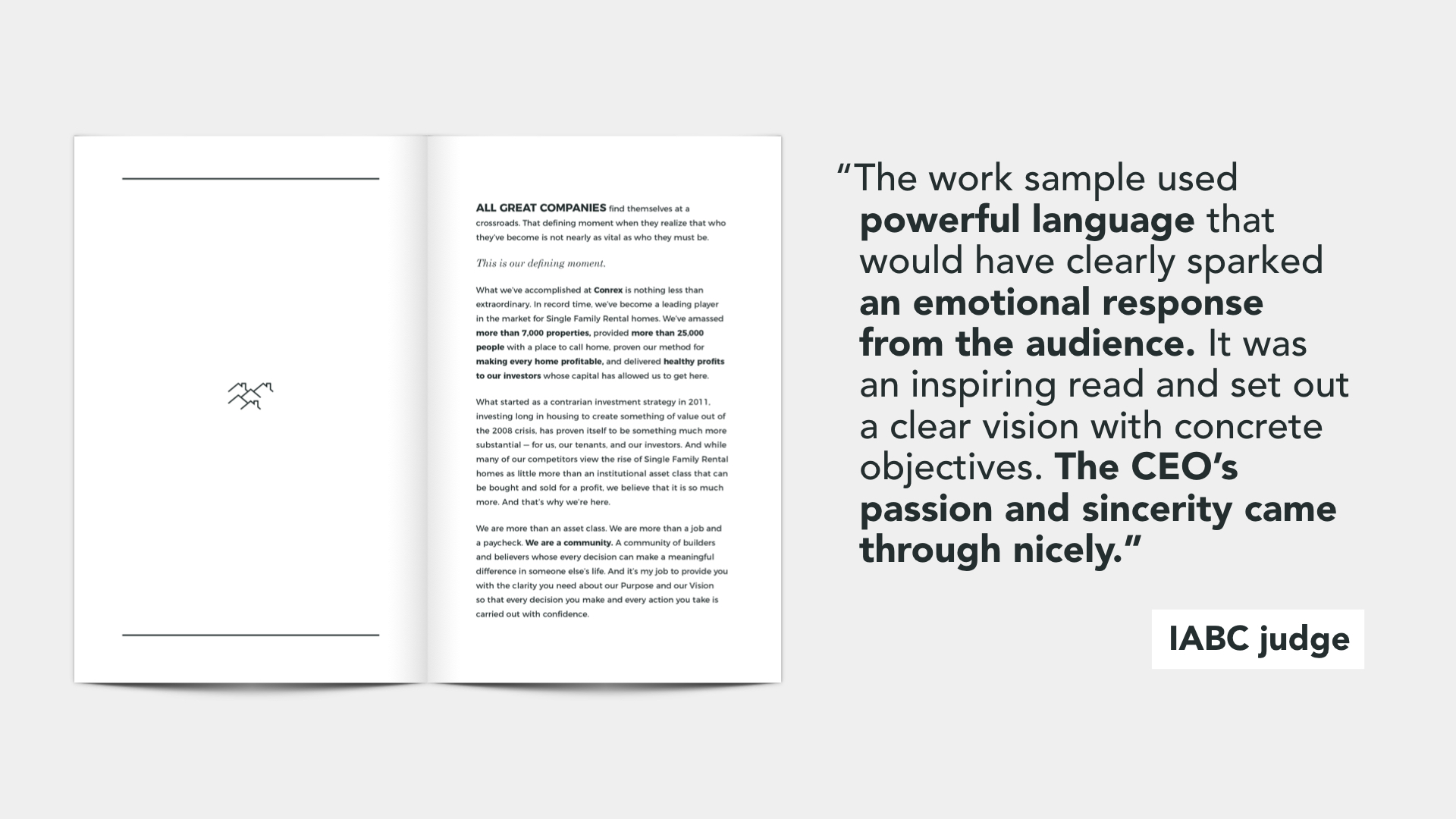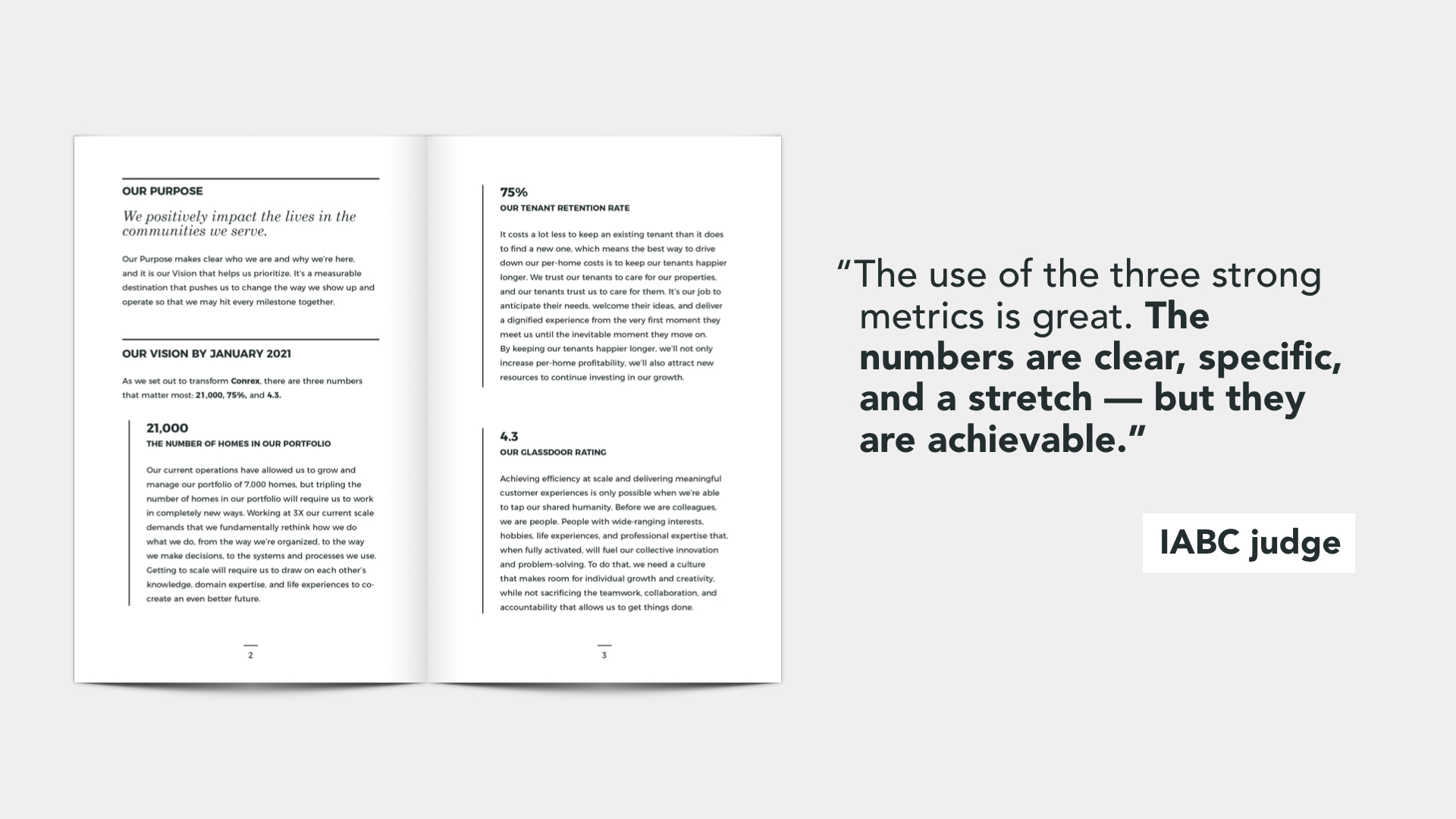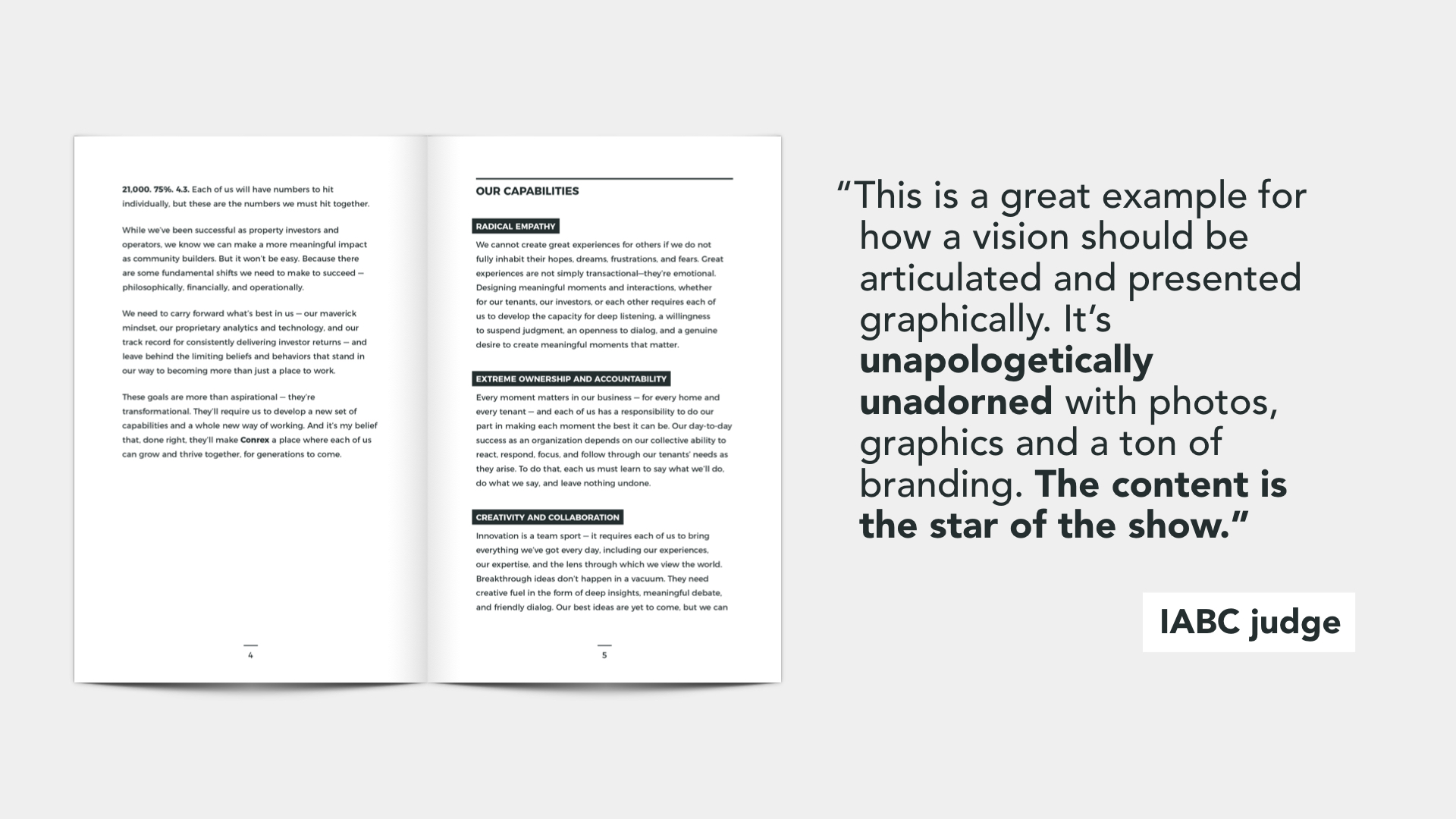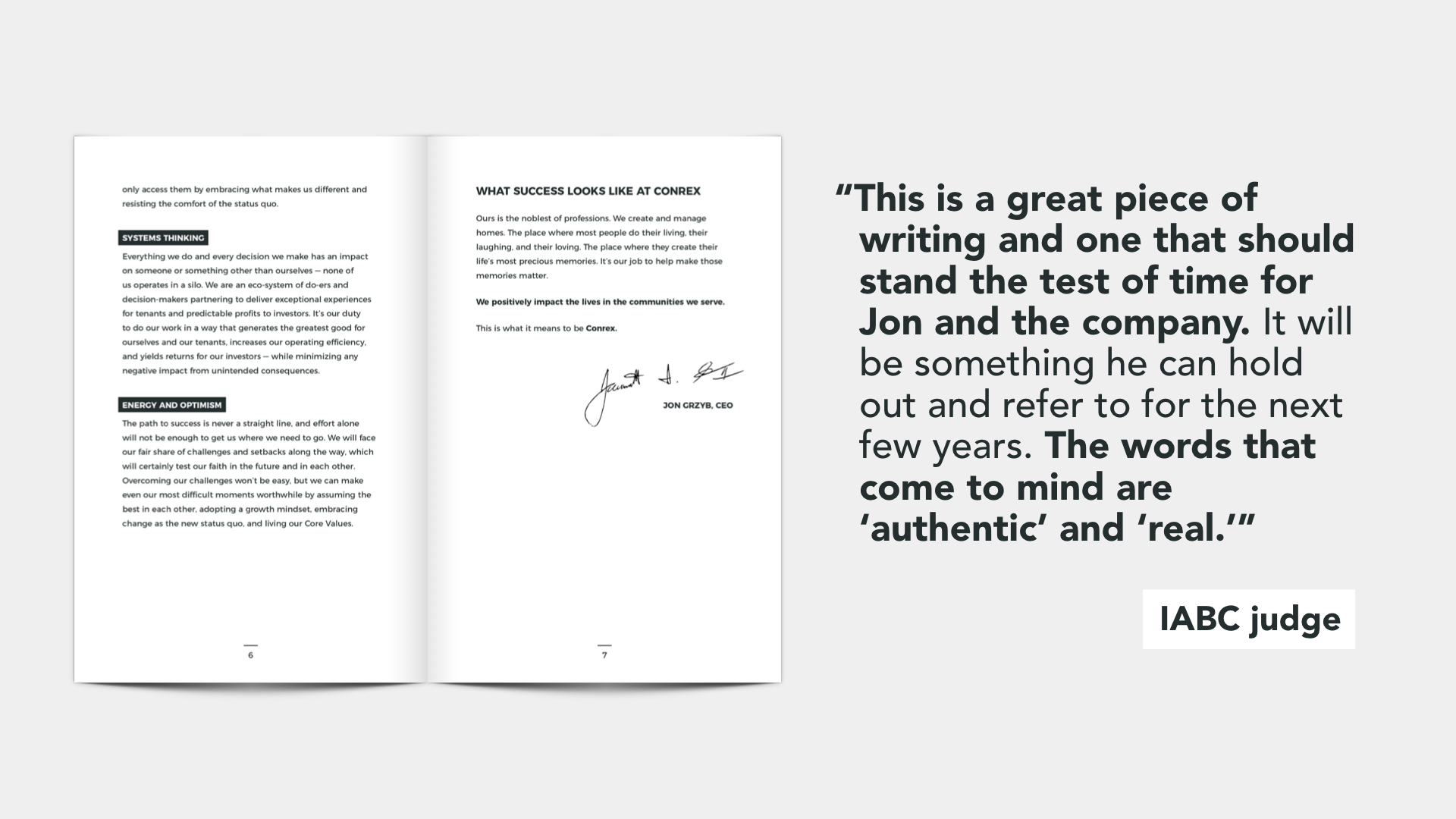 (bold text indicates our emphasis—elements of the judge's feedback that we believe uniquely distinguish our approach to storytelling in a business environment)